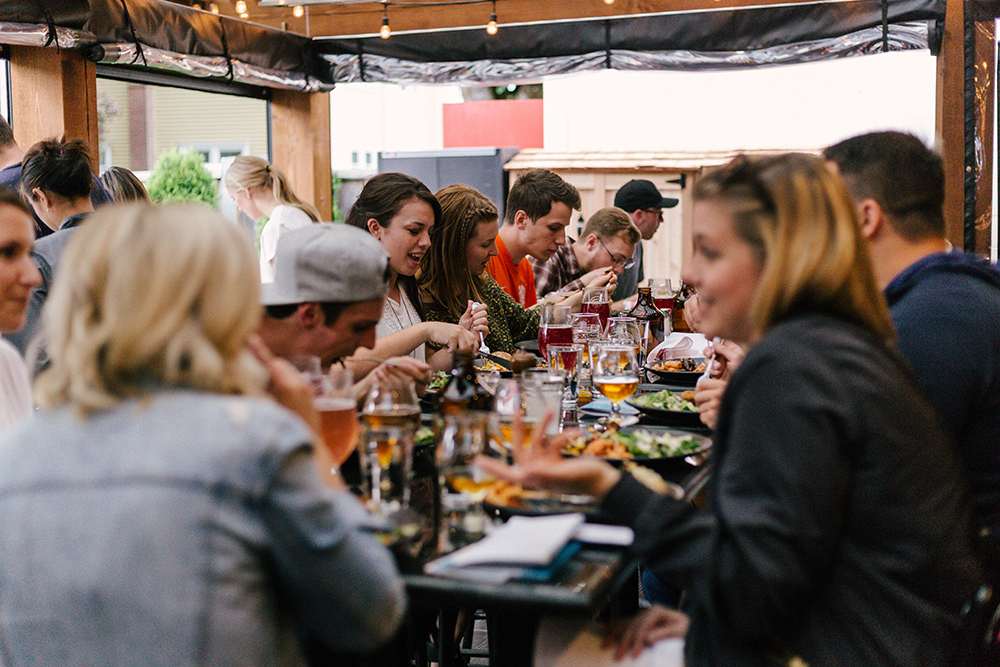 The president of American carnage sought to become the president who celebrates the American spirit on Thursday. 
President TrumpDonald John TrumpThe Memo: Trump uses convention to target key statesConway hails Trump as 'champion' of womenFormer 'Celebrity Apprentice' star Trace Adkins sings at GOP conventionMOREs speech closing the Republican National Convention at times even appeared to try to strike an inspirational tone.   
We are a nation of pilgrims, pioneers, adventurers, explorers and trailblazers who refused to be tied down, held back, or reined in. Americans have steel in their spines, grit in their souls and fire in their hearts, he said toward the end of his 70-minute address.
The question is how much credibility Trump has as the messenger for such elevated rhetoric. 
His first term in office has seen a continuation of the Twitter tirades, inflammatory language and personal attacks on opponents that characterized his approach from the moment he became a political candidate. 
His January 2017 inauguration speech, which referred to his desire to stop American carnage, was conspicuously dark. This year, he reacted to protests that followed the police killing of George Floyd in Minneapolis in May by tweeting when the looting starts, the shooting starts.
In between, there have been a thousand Twitter furors.
There is also a long record of Trump sounding presidential for the duration of one speech before returning to his more familiar and abrasive voice on Twitter within 24 hours.
Still, his acceptance speech on Thursday evening was consistent with a convention that had sought to sand down some of the sharper and less palatable edges of his public persona. 
Family members and key aides attested to what they claimed was a capacity for empathy and compassion. Trumps eldest daughter Ivanka, who introduced him on Thursday night, used part of her speech to portray him as a doting grandfather to her children. 
The president himself paid tribute to the people who have made my journey possible and filled my life with so much joy. The statement would be mundane, were it not for the fact that Trump so rarely extends credit to others for his own rise. 
The convention program also made a determined effort to defend Trump from accusations of racism and sexism.  
A number of Black speakers, from former football star Herschel Walker to prison reform advocate Alice Johnson, were on hand to insist, implicitly or explicitly, that Trump is no racist. 
Kellyanne ConwayKellyanne Elizabeth ConwayConway hails Trump as 'champion' of womenHurricane Laura strengthens as it nears Texas-Louisiana borderGOP women offer personal testimonials on TrumpMORE, one of Trumps longest-serving aides and the first woman to serve as campaign manager for the victor in a presidential election lauded his attitude to women in the workplace.
Trumps detractors will find those efforts risible too, of course. They will point to his comments about racist violence in Charlottesville, Va., and his insistence that the four non-white congresswomen known as "The Squad" should go back to where they came from.  
Politically speaking, conventions are all about revving up the base and reaching out to persuadable voters, however small in number they may appear to be. Thats what Trump was trying to do with his lighter tone and with the celebratory fireworks display that followed over the National Mall.
Trumps overt optimism and patriotism was of course also intended to pose a politically favorable contrast to his general election opponent Joe BidenJoe BidenThe Memo: Trump uses convention to target key statesPence condemns Kenosha violence, backs police in convention speechBiden praises Milwaukee Bucks response to Jacob Blake shootingMORE.
We understand that America is not a land cloaked in darkness, America is the torch that enlightens the entire world, Trump said. The line appeared to be an allusion to a line in Bidens convention speech a week before, in which he argued that the nation was experiencing a season of darkness.
Later, Trump asked rhetorically, How can the Democrat Party ask to lead our country when it spends so much time tearing down our country?
That argument was a also bridge to more familiar, ominous territory. Trump portrayed Biden as a Trojan Horse for left-wing figures inside and outside his party. He also sought to tie Biden to the most radical forces involved in protests about policing and racial justice. 
Most of those protests have been peaceful and Biden has condemned looting and other forms of violence when they have occurred. 
For Trump, however, Novembers election was one in which your vote will decide whether we protect law abiding Americans, or whether we give free reign to violent anarchists, agitators and criminals who threaten our citizens.
The president even employed similar framing in defense of his actions on the coronavirus. Numerous polls have shown his handling of the public health crisis have been viewed unfavorably by the public. COVID-19 has killed more than 180,000 people in the United States. 
But Trump promised to beat the virus by making expeditious progress on a vaccine. Seizing on Bidens willingness to consider a new national shutdown, Trump argued:  
The cost of the Biden shutdown would be measured in increased drug overdoses, depression, alcohol addiction, suicides, heart attacks, economic devastation and more. Joe Biden's plan is not a solution to the virus, but rather a surrender.
The specific context for those remarks is specific to 2020. But there is nothing unusual about a president seeking to frame dissent from the other side as unpatriotic, defeatist or pessimistic. 
Allies of then-President George W. Bush sought to frame Democratic critics of the Iraq War that way as he ran for reelection in 2004. Twenty years before, then-President Reagans reelection campaign ran a famous, optimistic TV ad, Morning in America, that sent the message that there were better days ahead so long as voters did not throw the incumbent out of office.
Trump, though, is an utterly unique figure, and the most polarizing president of modern times.
No-one counts him out. But there is also no guarantee that the playbook of patriotic uplift will work for him. 
The Memo is a reported column by Niall Stanage, primarily focused on Donald Trumps presidency.